Click on a chart to see the full website.

For more about the weather, see About the Weather ... below.
Current US Weather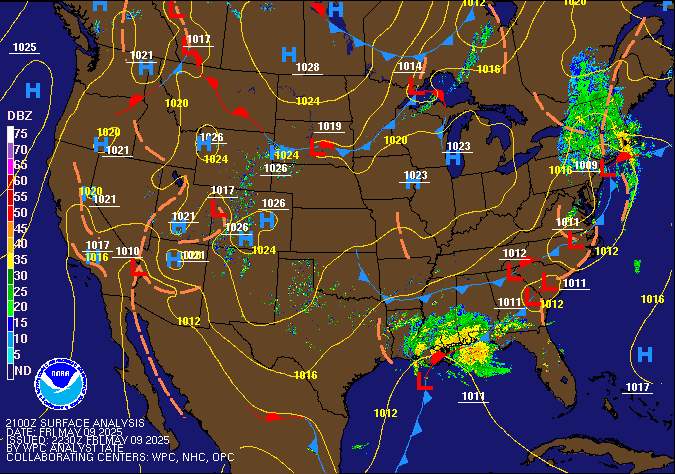 Current Canadian Weather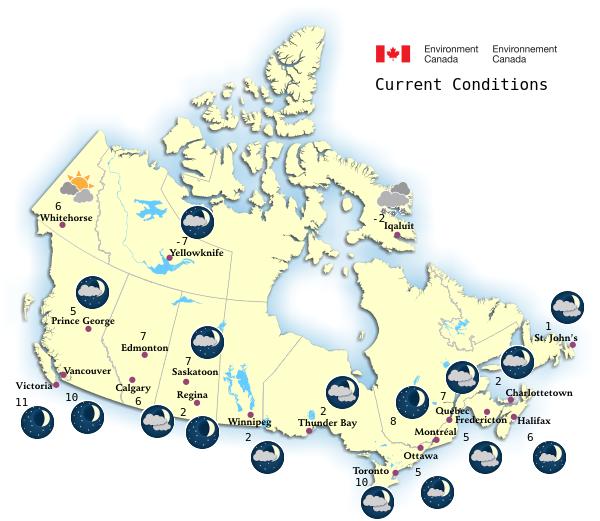 Current U.S. Temperatures &nbsp &nbsp (for Canadian temperatures, see above)
For the ten-day temperatures forcast, click here.
Infrared Satellite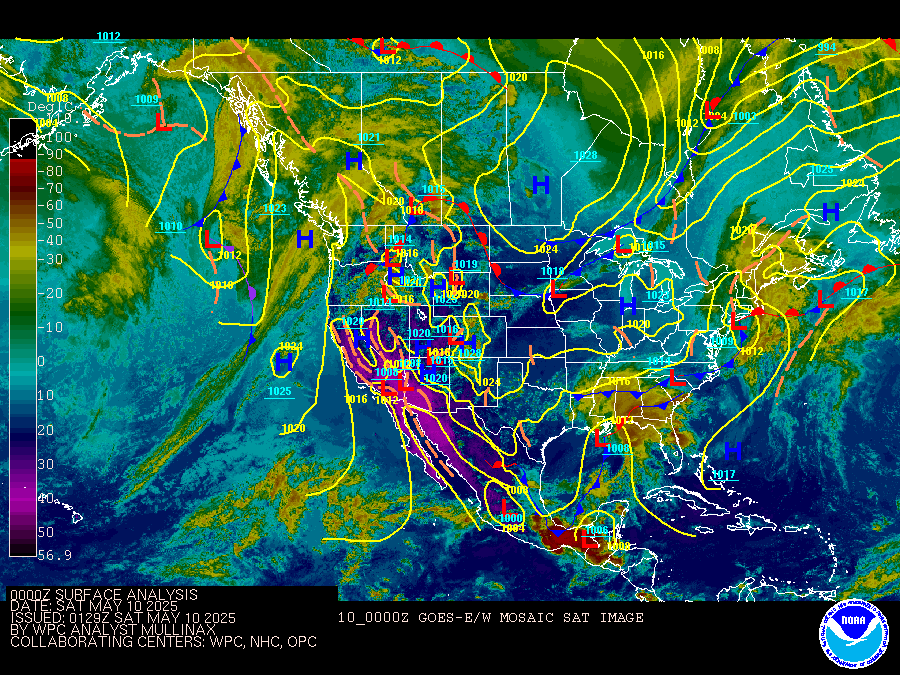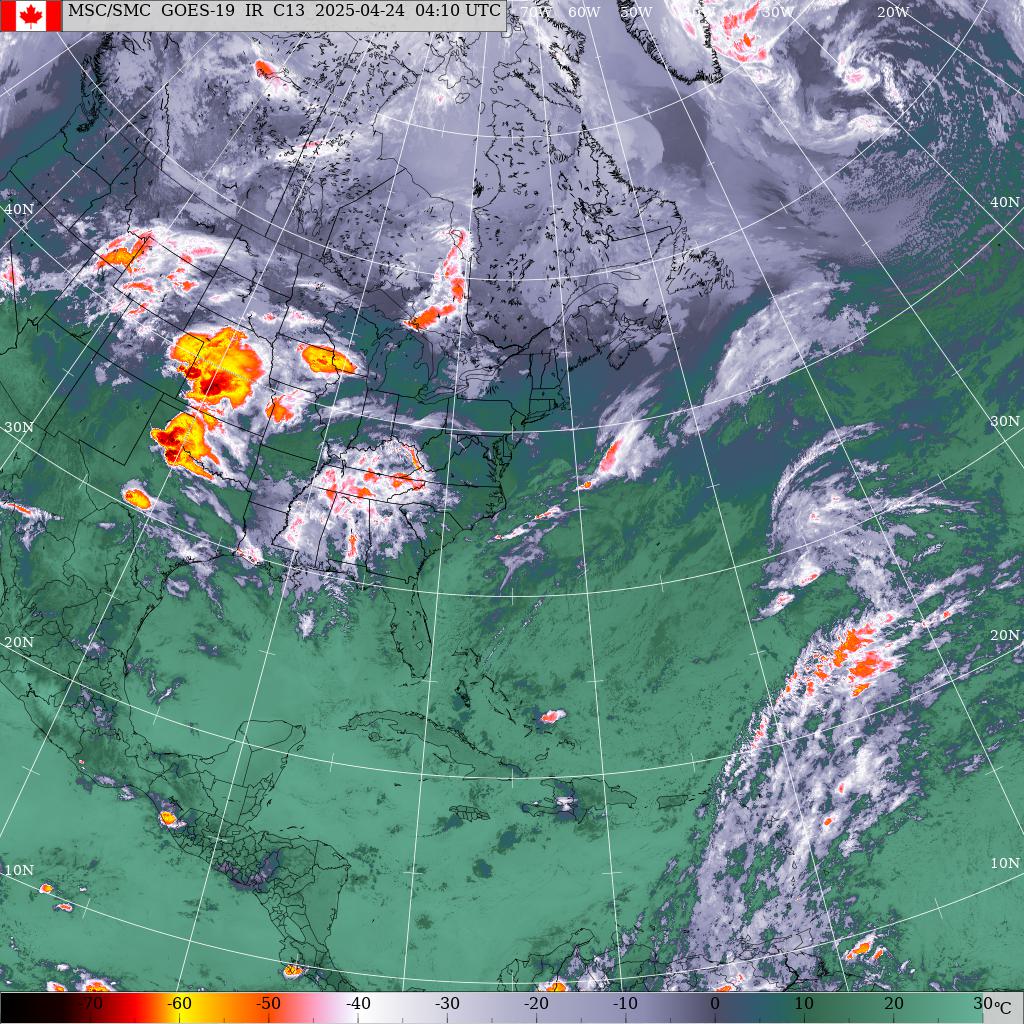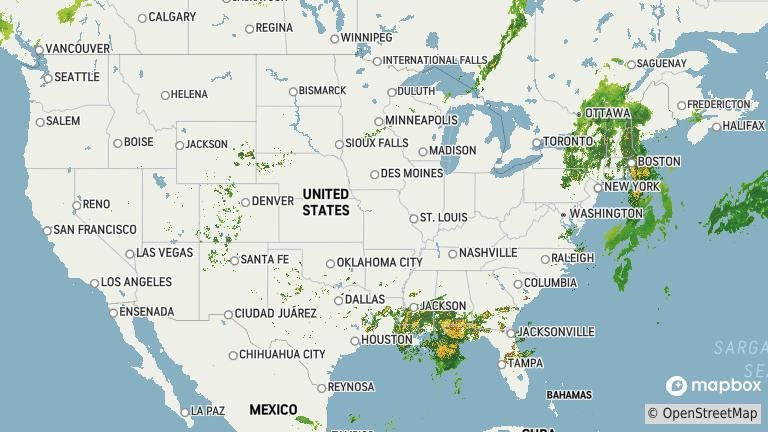 Sky Cover
&nbsp &nbsp See also our Sky Coverage Current and Forecast webpage.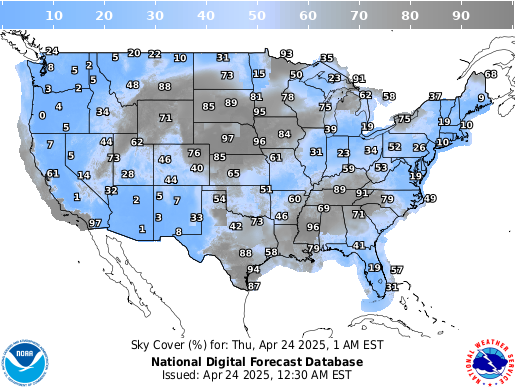 Surface Winds
&nbsp &nbsp See also our Winds Surface and Aloft Current and Forecast webpage.

For a detailed description of Wind Barbs, click here.
Wind Chill
Current Jetstream
&nbsp &nbsp See also our Jetstream Current and Forecast webpage.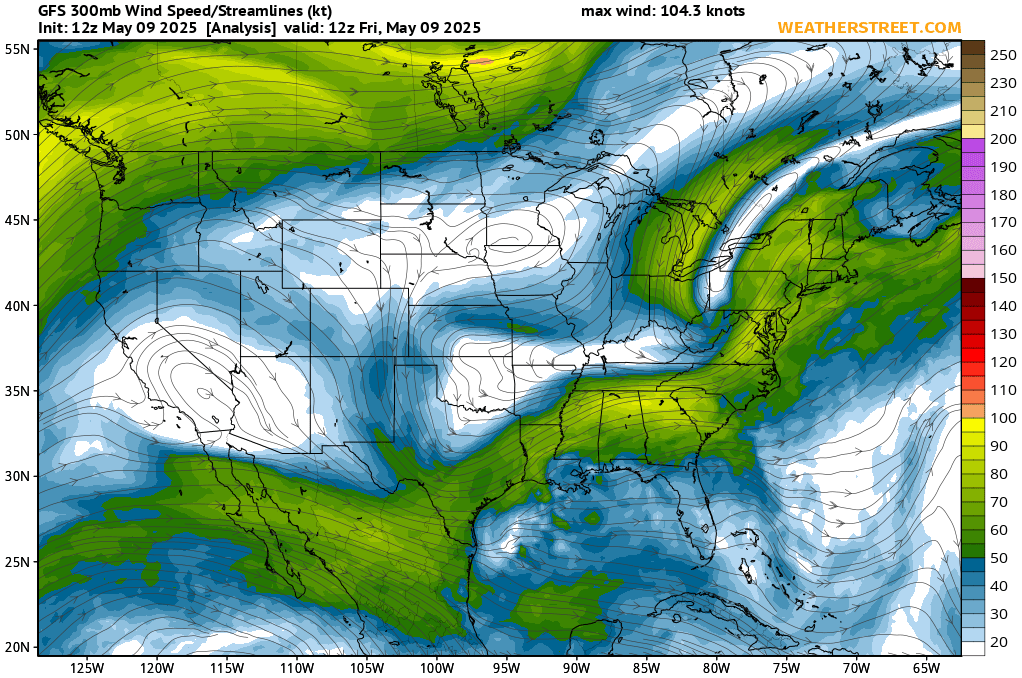 Water Vapor
Relative Humidity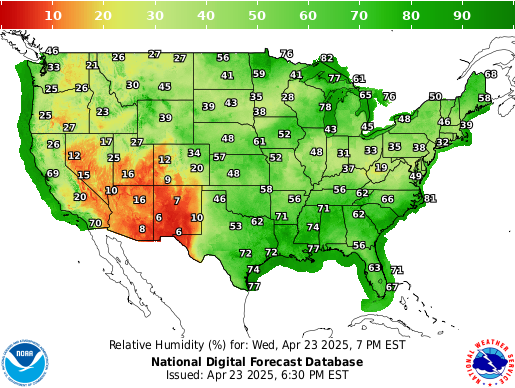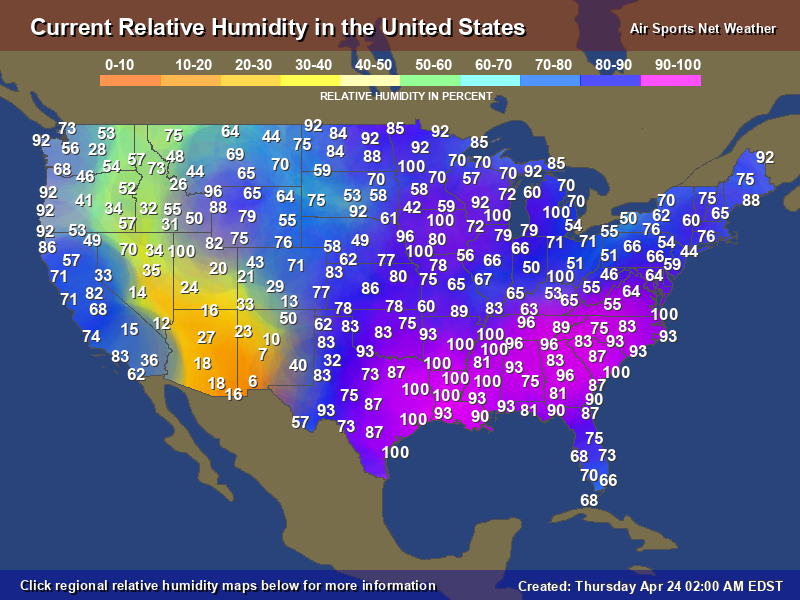 Dew Point
Visible Satellite (not reliable at night)
Current Snow Cover
Alaska Doppler Radar
Hawaii Doppler Radar
NOAA Weather Advisory Chart (click on chart to see color codes)
&nbsp &nbsp See also our NOAA Weather Advisory Charts webpage.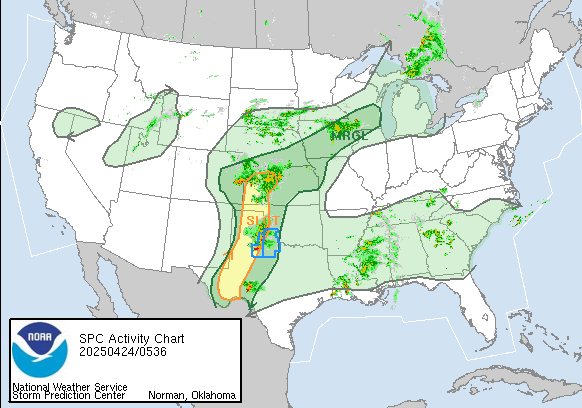 National Weather Service 24-Hour Precipitation Forecast and Categorical Outlook
&nbsp &nbsp See also our Two-Day Forecasts, Seven-Day Forecasts, Ten-Day Temperature Forecasts, and our Ten-Day Local Forecasts.
U.S. 30-day Outlooks - Temperature and Precipitation
World Weather Overview
About the Weather ...
Air pressure is shown in millibars or inches. The average air pressure at sea level is 1013 millibars, or 29.92 inches.
&nbsp
Any area with a lower value is an area of low pressure. Any area with a higher value is an area of high pressure. The further the pressure is from 1013, the greater the speed of the associated winds.
&nbsp
Weather charts will also label an area as a low, even if it is above 1013 but it is surrounded by higher air pressures.
&nbsp
Low pressure tends to bring clouds and precipitation (rain, sleet, or snow, depending on the temperature).
&nbsp
High pressure tends to bring sunny weather.
&nbsp
A front is a meeting of two air masses, usually with differing winds, temperature, and humidity.
&nbsp
Low pressure areas tend to be part of a front.
&nbsp
High pressure areas tend to be the central part of an air mass.
&nbsp
Air masses, highs, and lows vary in intensities, and are not always clearly defined.
In the northern hemisphere, winds circulate clockwise around a high, and counter-clockwise around a low. In the southern hemisphere, circulation is the opposite.
&nbsp
Cold fronts tend to run more or less north-south and move eastward, with (in the northern hemisphere) the south end trailing, and can stretch for a thousand miles or more. Cold fronts are usually the leading edge of a cooler air mass moving east.
&nbsp
Warm fronts tend to lie more or less east-west, and divide two fairly static air masses.
&nbsp
A cold front, being an area of low pressure, will generally be preceded by winds bringing warmer southern air northward (often including precipitation, due to moisture from the Gulf of Mexico).
&nbsp
A cold front will be followed by winds bringing cooler northern air south behind the front; i.e., circulating in a counter-clockwise direction, around the front.
&nbsp
The stronger the winds, the greater the temperature swings: warmer southern air reaches further north, and cooler northern air reaches further south.
Examples are most obvious in the winter, when unusually warm temperatures extend up into Iowa, preceding inbound rain or snow, or a cold snap reaches down into the Carolinas, after the passage of a cold front.
&nbsp
That pattern is a fairly reliable predictor of the next 2-3 days' weather: if it is unusually warm, expect precipitation; if your area has precipitation, expect colder temperatures when it has passed, followed by a gradual return to more seasonal temperatures, until above average temperatures and southern winds signal the approach of the next cold front.
&nbsp
Air pressure declines as the altitude rises above sea level. At 11,000 feet, the air pressure is only two-third; at 18,000 feet, it is only half.
&nbsp
The lowest pressure ever recorded was 867.93 millibars, in the eye of typhoon Tip over the Pacific Ocean on 12 October 1979.
&nbsp
The highest air pressure ever recorded was 1085.68 millibars at Tosontsengel, Mongolia, on 19 December 2001.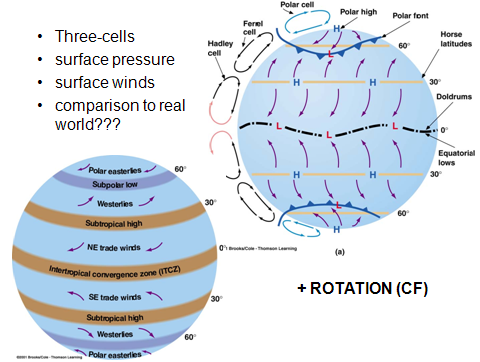 Regarding winds and the movement of air masses, the Earth can be divided into three general areas: the polar regions, the temperate zones, and the equatorial regions. For more about prevailing winds, click here or on the diagram at right.
For a better understanding of the weather, learn about Skew-T Log-P Charts.
Also visit our Aviation Weather webpage for more information about the weather and flying conditions, including links to METARs and TAFs for many airports.
For a better understanding of climate change, see Climate Information & News.
Bothered by all those scary climate predictions about CO2 levels? See the answers to your questions about CO2, and The Earth is Getting Greener!.
See also our list of External Sources for Weather Information and Education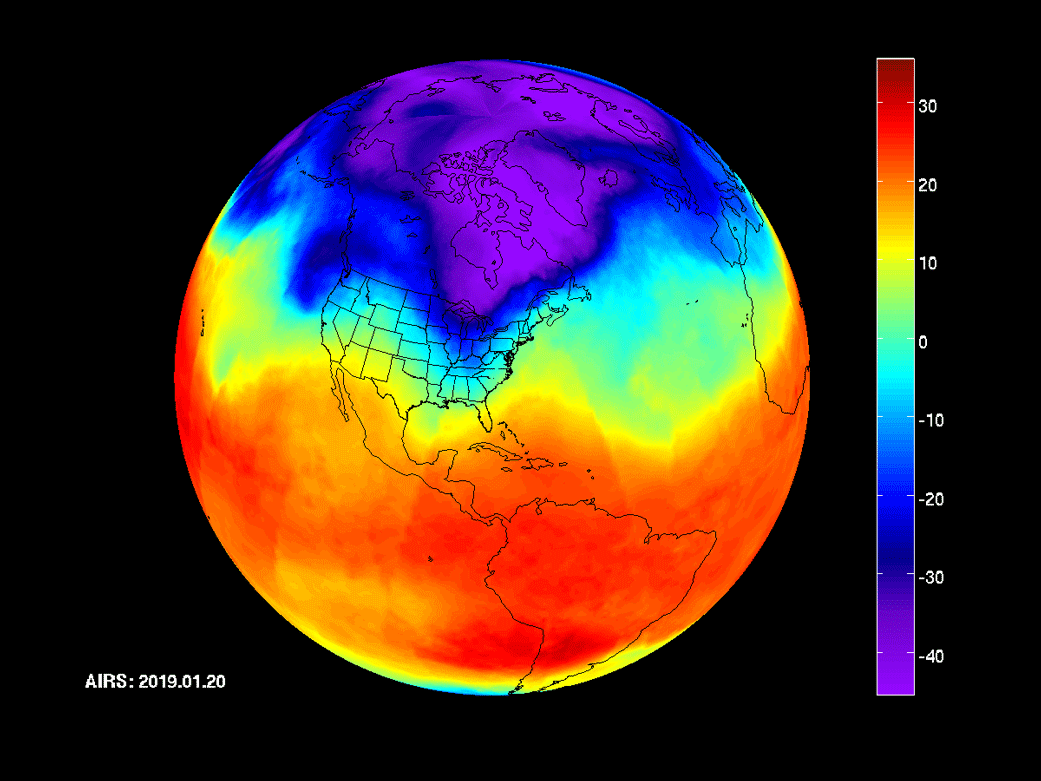 What is a polar vortex? Basically, it is when a very cold polar air mass travels down into the temperate zone.
The animated diagram at left shows airflows during a polar vortex (in purple), looking down from above North America.
Weaether and climate forecasting is not a science. See these various issues regarding the accuracy of weather forecasting.